Spotsy teacher selected as Region II Teacher of the Year
Spotsylvania County Public School's Division Teacher of the Year Fabiana Parker was selected as the 2023 Region 3 Teacher of the Year during a surprise visit on August 30, 2022, by Interim Superintendent Mr. Kelly Guempel and Ms. Shelley Loving-Ryder, Virginia Department of Education's Assistant Superintendent – Department of Student Assessment, Accountability, and ESEA Programs.
"Spotsylvania County Public Schools is honored to be represented by such a dedicated teacher," said Interim Superintendent Mr. Guempel. "Her enthusiasm and positivity inspires both her students and her colleagues."
Mrs. Parker was selected from division teachers of the year from the northeastern and Northern Neck area of the state. She will be honored, along with seven other finalists, on September 30, 2022, at the Virginia Department of Education's ceremony at the Governor's Mansion. Virginia's Teacher of the Year, chosen from the eight regional teachers, will be announced that evening.
Mrs. Parker has been an educator since 2003. Currently, she is an ESOL teacher at Thornburg Middle School who began working for Spotsylvania County Public Schools in 2021. Additionally, she teaches classes at Spotsylvania High School. When not teaching, Mrs. Parker volunteers her time with students, parents, staff, and community members to provide opportunities for partnership and growth through a variety of activities such as a guest speaker series.
"I am humbled and proud to represent Spotsylvania County Public Schools and Region III as the teacher of the year," shared Mrs. Parker.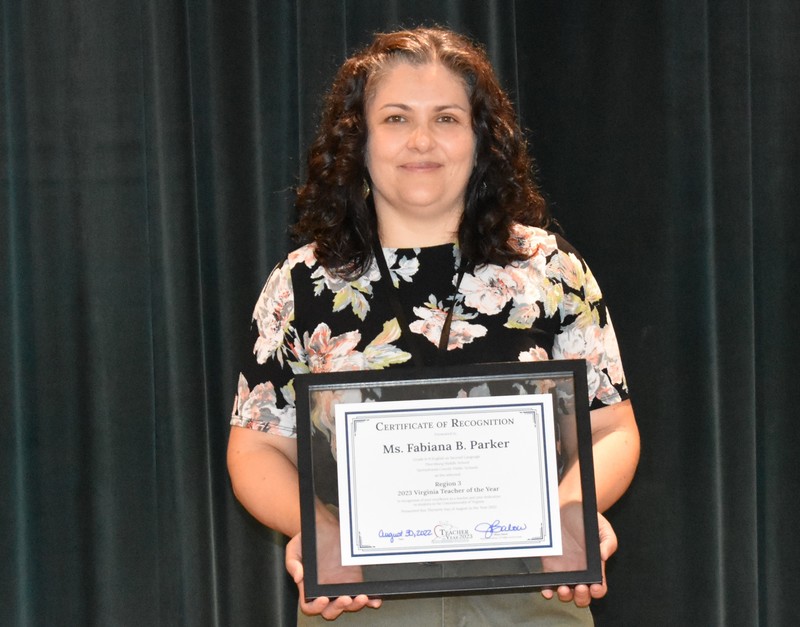 "As our school population becomes more diverse, it is of the utmost importance to ensure every teacher is equipped with the knowledge, tools, and skills to raise expectations so that when a student approaches a teacher full of hopes and dreams, we are able to encourage them to follow their path and become successful members of our society," continued Mrs. Parker. "That is the most rewarding accomplishment for any teacher."
The Teacher of the Year program recognizes and honors teachers who represent the best in teaching across the nation. Teachers of the Year serve as ambassadors, promoting quality education and the teaching profession. The 2023 Virginia Teacher of the Year will represent the commonwealth in the Council of Chief State School Officer's National Teacher of the Year Program.